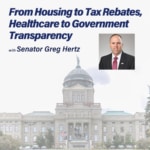 He was one of the busiest, and most effective legislators at the 68th Montana legislative session.
State Senator Greg Hertz of Polson carried around 60 bills, 33 of which were passed into law.  From housing to tax rebates, healthcare to government transparency, Senator Greg Hertz had a hand in dozens of major reforms.
We retrace a busy legislative session. Was the outcome what you had in mind?