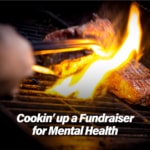 It's Grillin' Time ….
So, we're going to have some fun with a little cookin' — stir in a little history, add a good helping of an honest day's work, and then top it off with a generous portion of giving back.
How does that all come together – click on for a little trip to Dutton Montana, in the Shadow of the Rockies, to the DeBruycker Ranch, to learn more about the renowned Charolais beef, and a virtual cooking event to help support rural mental health in Montana.