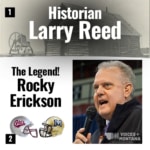 Is today's politics vastly different than, say, 87 years ago?  Maybe not so much, as we'll learn today in Historian Larry Reed's telling of the time Democratic Montana Senator Burton Wheeler fought off a charge from his colleagues to vastly expand the US Supreme Court.
Then the legend himself, Rocky Erickson, will join us to tell a remarkable Griz/Cat story that involves players NOT suiting up in football pads, but combat gear instead, and joining the fight in WW2, with many making the ultimate sacrifice.
We'll also get a preview of the 5 state championship games that will be decided this weekend.