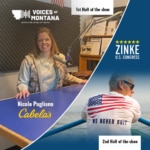 Getting ready for the weekend hunt? Cabela's Manager Nicole Pugliano joins us in-studio to tell us the truth about where she hunts for all the big game — oh wait, Tom already tried that angle and she told him nothing …
Okay, how about we talk the latest in hunting rifles and scoping technology, block management, and ways you can help out your favorite landowners.
Also, western district congressional candidate Ryan Zinke will join us for those last-minute campaign questions.