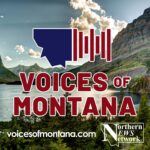 If you live in Montana, your winters are probably far better if you find the joy in recreating in the cold and snow, and the Treasure State provides ample opportunity for just that.
But you might be surprised to learn that in the early 70's, most of the town of West Yellowstone, which many consider to be the snowmobile capital of the west, closed up shop, and curled next to a toasty fireplace until spring. Clyde Seely helped change that.
Seely is the owner/operator of Three Bear Lodge in West Yellowstone. On this edition of Voices of Montana, Clyde talks about the effort to launch, encourage, and defend the now robust snowmobile recreation industry over the course of the past 40+ years.
We also get an update on how COVID-19 has impacted Montana's skiers from Jessi Wood, Operations Manager for Blacktail Mountain Ski Resort, and you may be surprised again to learn that in our socially-distanced world plenty of folks are making room for winter fun.