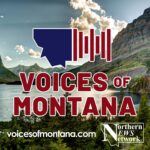 How exactly did Montana's economy react to the pandemic? What sort of innovations are emerging across the state?
Bureau of Business and Economic Research Executive Director Dr. Pat Barkey was the Keynote Speaker at the Montana Chamber's Economic Update Series where he examined data that answers these questions.
Click to hear Dr. Barkey along with Montana Dakota Utilities Strategic Planning & Growth Director Paul Hopfauf, Zoot Enterprises Co. Medical Division Executive Vice President Mike Follett and RDO Equipment Co. Human Resources Director Adam Gilbertson discuss the economic opportunities for Montana.