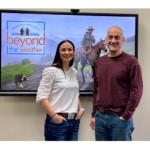 According to the Montana Hospital Association, fifty individuals seek urgent psychiatric care in Montana emergency rooms every day. Unfortunately, very few hospitals, regardless of size, can provide the appropriate level of care. As a result, Montanans in crisis are either "boarded" in the emergency room for unreasonably long periods of time (hours to days) or transported to psychiatric facilities hundreds of miles away from home.
Dr. Ray Wright Emergency Department Director for Livingston HealthCare shares his experience along with Dr. Eric Arzubi with Frontier Psychiatry. Frontier Psychiatry is developing a Telehealth Crisis Initiative, a project of Frontier Psychiatry is creating a statewide telehealth crisis response network covering all hospital emergency rooms in Montana. The Telehealth Crisis Initiative will provide access to full psychiatric telehealth assessments within 2 hours of the request, 365 days a year from 8 a.m. to 8 p.m. Additionally, the clinical team staffing the network will ensure that individuals have access to follow-up care via telehealth within 7 days of discharge back to the community.
Frontier Psychiatry also offers free counseling for the Agricultural community. Please visit www.beyondtheweather.com to get an appointment.
If you or someone you know is in mental health crisis, please call "9-8-8" for immediate help.
Thanks to the Arthur M. Blank Family Foundation for supporting increased access to mental health services and stigma reduction in Montana.
With Guest Host Courtney Kibblewhite