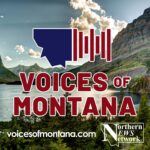 It's April and there's still college basketball to play in Montana. The Dawson Community College Buccaneers are ready to compete for a national title in the NJCAA Men's Basketball Tournament and Head Coach Joe Peterson phoned in to discuss the team's road to the tournament and how they're preparing for their first round matchup against Indian River State.
Then, Montana Chamber of Commerce Government Relations Director Bridger Malum explains how the 67th legislative session is going from the perspective of Montana's businesses and industries.
Also, Chuck Denowh from the United Property Owners of Montana talks about how the 30 x 30 Program from the Biden Administration could possibly affect millions of acres of public land and what the UPOM are doing to fight back this executive order.