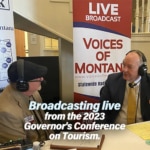 Montana's tourism and recreation industry has faced obstacles the past few years, namely a worldwide pandemic and a 500-year flood event in southeast Montana.
But the industry has used the experience to dial-in the pitch and make ready for another season.
Click on the podcast to find out what new ideas and events are on the docket as we broadcast live from the 2023 Governor's Conference on Tourism.