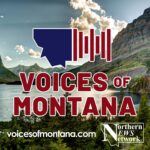 The pandemic has opened our eyes to the advantages of tele-medicine in rural Montana. What's next?
Click on the podcast to hear three of the nation's leading authorities discuss how to take advantage of the lessons learned to improve and preserve our vital rural heath clinics.
Butte native Ray Rogers discusses the planned state of the art rural healthcare simulation training Praxis Center which is expected to train around 5,000 medical professionals yearly, and bring  increased economic opportunity for Butte.
Neal Neuberger, President of Health Tech Strategies, Inc., and Terry Hill, Executive Director of Rural Health Innovations, also provide valuable input gained through their years of rural healthcare policy and education advocacy.