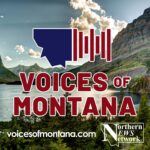 Did you know there are documented cases where the COVID-19 virus has been transmitted from humans to felids (cats) and mustelids (weasels)?
Bob Gibson, Communication and Education Program Manager for Montana Fish, Wildlife, & Parks, talks about the early findings and precautions regarding the issue, and what kind of ramifications it might have on wildlife populations.
We also got an update on Montana's battle against Chronic Wasting Disease, which the 2020 hunting season revealed has spread to new areas in Montana.