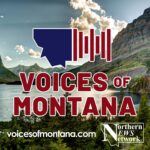 A Hawaiian Cowboy and a lawsuit concerning the Oregon Dams? Yes, you are still listening to the Voices of MONTANA podcast. In this episode, we explore the far-reaching impacts of Montana individuals and resources from beyond the Treasure State.
Click to hear Cowboy Poetry Gathering and Western Music Rendezvous Board Member and Performer Bill Garcia talk about the upcoming event in Lewistown, his cowboy roots in Hawaii along with an exclusive performance.
Later, we hear from Western Montana Generating & Transmission Cooperative General Manager Joe Lukas discuss a recent letter sent to the state of Oregon discouraging their efforts for more spill from dams.