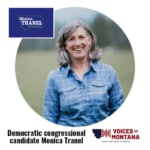 One of the most closely watched congressional races across the country is in Montana's newly formed House District 1 – the western district.
The democratic nominee for the seat is Monica Tranel, a former Olympic rower, and she joins us today with a lot on the plate. Inflation at near all-time highs, a drug crisis driven by an unsecured southern border, a national debt that has grown by more than 35% in the past three years, and an international conflict that threatens to draw the United States into a nuclear war.
We talk about the issues we face in Montana and America today.