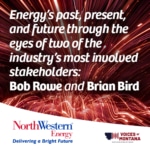 Energy Transition of the Human Kind at NWE
Bob Rowe is marking the final days as the 14-year leader of NorthWestern Energy. The respected CEO retires at the end of the year, and colleague Brian Bird, who has been transitioning into that position for several months, takes over the helm.
Join us today as we'll look at energy's past, present, and future through the eyes of two of the industry's most involved stakeholders: Bob Rowe and Brian Bird.