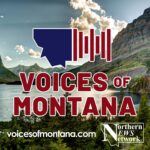 Our veterans and military families are getting targeted for scams and at a rate of 80%. One of the unfortunate reasons for this is that it's not hard to identify a veteran and, therefore, easy to target.
Click the podcast to hear from AARP Montana President Al Ward and Veterans and Military Families Initiative Senior Advisor Troy Broussard discuss how veterans can protect themselves from fraudsters.
Later, we chat with AARP State Director Tim Summers to find out what's new with the upcoming primary elections in Montana.