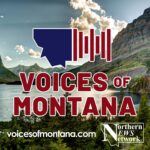 What words come to mind when you think about small business? Passion? Innovation? Commitment?
In Montana, all of this and more are certainly the case with the businesses on display at the 2021 Made In Montana Trade Show.
Click the podcast to hear from Montana's Department of Commerce Director Scott Osterman, Department of Agriculture Director Christy Clark and Lieutenant Governor Kristin Juras talk about the scenes at the show along with local entrepreneurs Amber Hoffstad with Windrift Hill, Alpen Fuel Owner Sean Durkee, Aspen Grove Farm's Mellissa Allred and Table Tree Cherry Juice's Gary and Susan Grow and the 2021 Made In Montana Retailer of the Year: Carol Lynn Lapotka with HandMADE Montana.