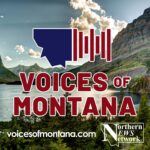 With drought, grasshoppers, and wildland fires, it's been a tough year for many in Montana. When you find yourself in need – it's nice to have friends.
Click the podcast to hear the story of four truckers, two from Montana including Jaxon Allen (Wild Wild West), one from Idaho, and Heavy D from the Discovery Channel's "Diesel Brothers" surprise a long-time ranching family from Roy, Montana, with a healthy dose of hay  – 4 semi-loads – for free. It's a heart-warming story that reminds us of the good neighbors in the land.
Also, head over to the Northern Ag Network to read the original story!