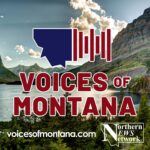 There are few names (and voices) that are as recognizable across Montana as Taylor Brown's.
He's a rancher, award-winning broadcaster and former state legislator who will be receiving an honorary doctorate from his alma mater, Montana State University, Friday, Dec. 17.
Click the podcast to hear from the Northern Broadcasting System President along with MSU President Waded Cruzado and Montana ranchers and community leaders Bob Lee and Jim Peterson as we look back on the past 45 years of Montana agriculture, broadcasting, and politics.