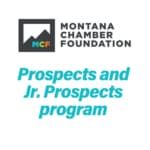 What kind of career opportunities do young Montanans seek? Would you be surprised to hear many of them are exploring the idea of creating their own businesses? That's where the Montana Chamber Foundation, and a few hundred Montanans come into play.
 With the generous support of Montana businesses, and the thoughtful mentorship of business owners and teachers, the Prospects and Jr. Prospects program enables young students from 6th – 12th grade to explore ideas and learn to create and operate their own businesses. This past year saw 139 total projects submitted for the competition.
 With Empowered Workforce Specialist James Easton, and Prospects high school winners Tyler Power and Tyler Bruursema from Billings, and Owen Day of Lewistown.