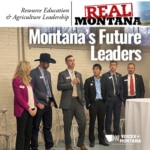 Who will be Montana's future leaders in resources and agriculture, and where will they lead?
We'll get a strong sense of that as Voices of Montana will go on location (to Rock 31) to interview members of Class V of the REAL Montana program.
20 Montanans are participating in the 2-year program offering in-depth education and training in agriculture and natural resource industries. What do these future leaders see as the biggest opportunities and challenges for their industries?
Joining us on air will be:
Chris Anderson, Deer Lodge: Controller, Sun Mountain Lumber
Chisholm Christensen, Hinsdale: Rancher and Owner, 1909 LLC
Amy Schulte, Butte, Owner and Creative Strategist, Moonlight Marketing and Events
Tyler Tintzman, Dillon: Branch Manager, Northwest Farm Credit Services
Then we'll speak with Steve Arveschoug , Exec. Dir. for Big Sky Economic Development which helps facilitate Rock 31, a new business incubator and entrepreneurship community geared "… to solve problems, remove obstacles and clear a path to market" (and) to "educate entrepreneurs and guide them through the development process."