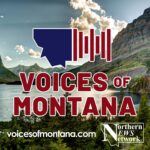 In this edition of "Rural Montana Live," the statewide radio show of Rural Montana magazine:
What kinds of songs would a Hi-line cowboy and country singer sing? Singer-Songwriter and Hinsdale Rancher Chisholm Christensen answers these questions and tells us about his debut album, The Prisoner,  life as a musician and rancher and more.
Also, Montana Electric Cooperatives Association Communications Director Ryan Hall talks about his article on Christensen in the July issue of Rural Montana and Executive Director Gary Weins talks about his article on transitioning Montana's energy portfolios.