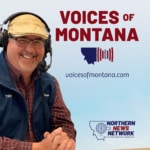 In this edition of "Rural Montana Live," the statewide radio show of Rural Montana magazine:
There are over 40 million electric cooperative members who could save millions of dollars if Congress would allow electric cooperatives to renegotiate their interest rates. Click on the podcast to hear Chris Christensen, a Norval Electric CO-OP board member, and Montana's first ever President of the National Rural Electric Cooperative Association discuss the issue, along with broadband development and climate change as agenda items for the nation's rural electric providers.
Then, fresh from the April edition of Rural Montana, Adam Dean talks about restoring his family's '55 International and getting it ready for his September cancer fund-raising journey to Chicago in honor of his late father, Dale, who battled cancer numerous times in his life before his passing.  Support the cause and the journey here.