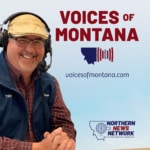 March 23rd is National Ag Day. Agriculture has been such a vital part of Montana. Yes, it's our #1 economic driver, but agriculture's value is measured in far more than just dollars and cents.
It's where we learned to be good neighbors, how to pitch-in, to be fair and honest with each other, and that a satisfying day's work can lead to a peaceful night's rest.
Today we talk about that heritage and agriculture's impact on the economy and lifestyle in Montana as newly-appointed Director of the Montana Department of Agriculture Mike Foster join us on Voices.