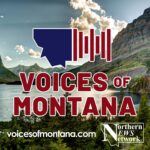 What can Montana do to manage in the dramatic price increases in prescription drugs and housing across the state?
Click to hear Montana Commissioner of Securities and Insurance and State Auditor Troy Downing discuss what his office is doing to answer these questions.
Also a U.S. Air Force/Air National Guard Veteran who was twice deployed to Afghanistan, Troy shares his thoughts on the 20th anniversary of the September 11th attacks, why this inspired him to enlist and how he feels about the United States' recent removal from Afghanistan.