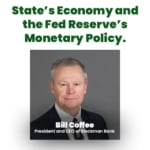 The Federal Reserve has decided to hold interest rates steady, after 10 consecutive rate increases.  Indications are 2 more rate hikes are likely this year. In the past 16 months, the central bank has increased rates by 5 percentage points to curb inflation.
Is the policy working? How has such a rapid and sizeable increase in interest rates affected the Montana economy.
Bill Coffee, President and CEO of Stockman Bank, is the Helena Branch Director of the Federal Reserve Bank of Minneapolis. Coffee will join us for an in-depth look at the state's economy and the Fed Reserve's monetary policy.