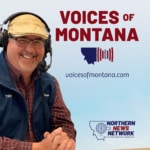 It's a Montana tradition. It's a Western tradition. It's an event people travel across the world to witness.
The Miles City Bucking Horse Sale has attracted genuine and wanna-be cowboys and cowgirls for over 70 years and, after getting cancelled last year due to the COVID-19 pandemic, it's back for 2021.
Click the podcast to hear from Tracy Hauk with marketing and sponsorships, MCBHS Board of Governors President John Morford and Vice President Craig Miller to learn more about what's happening at the bucking horse sale this year.