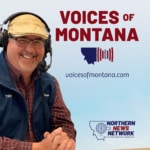 Would you ride 1,000 miles in 24 hours to raise awareness of suicide prevention in Montana?
That's exactly what American Legion Riders, Dog Tag Buddies, and Tenacious Dames have come together to do. The Ride For Tomorrow is a fundraising event that will carry the message of suicide awareness  through the Iron Butt Challenge — a 24 hour 1,000 mile motorcycle ride that will travel through Billings, Broadus, Glendive, Miles City, Fort Benton and Big Timber.
Click the podcast to hear from Tracey Rassley with the American Foundation for Suicide Prevention about the warning signs of suicide and what actions you can take. Then, Tenacious Dames Member Tina Beach, American Legion Riders Montana Director Gil Floyd and Dog Tag Buddies Founder and Executive Director Dee Dee Baker all join the show to talk about their respective organizations, the Ride for Tomorrow and how others can get involved.