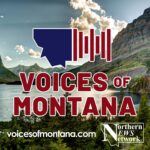 This edition finds us in Great Falls at Tracy's Family Diner where we spoke with Kathy Van Tighem and Kevin Sukut with Benefis Health System, Tara Beam from the Roadhouse Diner, Kylie Myers with Buffalo Jump State Park, Double Barrel Coffeehouse Cafe Owner Lucas Cyr, Pasta Montana's Randy Gilbertson and Tanya Koslosky. We also have Cascade Electric Owner Scott Wilson and Sharon Kagaris from the Independent Living Specialist for North Central Independent Living Services.
Click to listen to the podcast to find out more about Camp Francis, Dave Snugg's programs My Neighbor in Need and My Student in Need and what all these businesses are doing to give back to their community and what make them Tow Rope Heroes!
Tow ropes are a tool used to provide a connection and a tug to get out of a sticky situation. Part of what makes Montanans unique is we would never leave someone on the side of the road. You never know when the next car will be along, so we stop, we help and we reach out to our neighbors. That's something to celebrate. That's why Northern Broadcasting is traveling around the state to broadcast Voices of Montana and Northern Ag Network programming and highlight the different communities and honor their own Tow Rope Heroes! The Tow Rope Tour is proudly sponsored by Mountain Health Co-Op.