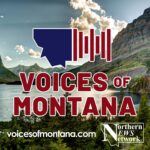 For the last stop of our first run, we visited our state capitol to chat with Mountain Health Co-Op President and CEO Richard Miltenberger, Shodair Children's' Hospital Major Gifts Manager Adrienna Hines, Brad Smith and Camry Colter with Valley Sand and Gravel and 1889 Coffee House Owner Brett Wiensch.
Click to listen to the podcast to find out more about Brad, Brett, David Grant from Winnett , Megan McDonald from Jordan, Bella Nyman and what exactly makes them all Tow Rope Heroes!
Tow ropes are a tool used to provide a connection and a tug to get out of a sticky situation. Part of what makes Montanans unique is we would never leave someone on the side of the road. You never know when the next car will be along, so we stop, we help and we reach out to our neighbors. That's something to celebrate. That's why Northern Broadcasting is traveling around the state to broadcast Voices of Montana and Northern Ag Network programming and highlight the different communities and honor their own Tow Rope Heroes! The Tow Rope Tour is proudly sponsored by Mountain Health Co-Op.