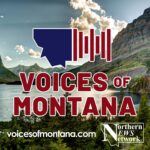 The first stop of the Tow Rope Tour brought us to Lewistown where we spoke with Karen Kuhlman of the Central Montana Medical Center (CMMC) Foundation, Abby Franks with the Boys and Girls Club of Lewistown, Brett Nienhuis with Big Fish Boat Works and Dale Pfau, Executive Director of Fergus County Council On Aging/Central Montana Shuttle, and the founders of Support our Montana Heroes, Kim Miller and Whitney Brady.
Click on the podcast to learn more about Kim and Whitney's efforts to donate nearly 1,000 meals during the pandemic, Big Fish Boat Works' unique donations, the 30 Days of Beef and more that make these people Tow Rope Heroes!
Tow ropes are a tool used to provide a connection and a tug to get out of a sticky situation. Part of what makes Montanans unique is we would never leave someone on the side of the road. You never know when the next car will be along, so we stop, we help and we reach out to our neighbors. That's something to celebrate. That's why Northern Broadcasting is traveling around the state to broadcast Voices of Montana and Northern Ag Network programming and highlight the different communities and honor their own Tow Rope Heroes! The Tow Rope Tour is proudly sponsored by Mountain Health Co-Op.