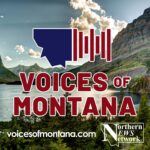 It's the start of the second run of the 2021 Tow Rope Tour sponsored by Mountain Health CO-OP and we find ourselves up along the Hi-Line in Shelby Montana. We hear from Toole County Forward Creator Dwaine Iverson and his daughter Holly Hovland and former Marias Heritage Center Director Judy Richmond. Then, we chat with Kris Ingenthron – Marias River Electric Co-Op GM – and Retired military vet Duane Drogitis. Later, CEO Jaimie Brownell, Dr. Todd Gianarelli and Dr. Justin Hooker join us to talk about Maria's Healthcare Services Inc., the work they do and the challenges posed over the past year.
Click to listen to the podcast to find out more about these local heroes, their stories and what exactly makes them all Tow Rope Heroes!
Tow ropes are a tool used to provide a connection and a tug to get out of a sticky situation. Part of what makes Montanans unique is we would never leave someone on the side of the road. You never know when the next car will be along, so we stop, we help and we reach out to our neighbors. That's something to celebrate. That's why Northern Broadcasting is traveling around the state to broadcast Voices of Montana and Northern Ag Network programming and highlight the different communities and honor their own Tow Rope Heroes!