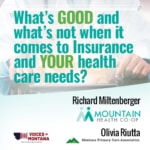 Do We Really Know What is "Open" for Enrollment?
With insurance, we know it as Open Enrollment, but do we really know what is "open" for enrollment? There are likely more insurance options then we are aware of. Lots more. But what's good and what's not?
Today we'll be joined by Richard Miltenberger, of Mountain Health Coop, and Olivia Riutta, from the Montana Primary Care Association, as we'll openly explore the role insurance and community services can play in helping to meet your quality healthcare needs.