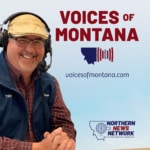 It's been a coffee table and bar room debate for as long as there has been coffee tables and bars – who are the greatest athletes from our Montana cities and towns?
406mtsports.com Executive Sports Editor and author Jeff Welsch has given answering that question quite a go the past couple of years and come up with his latest book: Montana Greats: From A (Absarokee) to Z (Zurich), The Greatest Athletes From 264 Montana Communities.
Click the podcast to hear Welsch tell the stories behind several of the 264 athletes, and discuss what local sports and our sports heroes mean to Montanans.