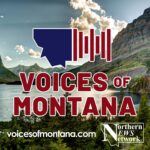 In the 2021 Montana High School Youth Risk Behavior Survey, roughly half of all students reported feeling seriously depressed at some point in the last year, and one in five reported seriously considering suicide and making a suicide plan.  About 1 in 10 students had attempted suicide in in the past year.
Rural Behavioral Health Institute's (RBHI)  mission is to reduce youth suicide in Montana through our Screening-Linked-To-Care program (SLTC).  This free program consists of universal screening at the 6 – 12 grade level for suicidal thoughts and behaviors, depression and anxiety. Students who are identified at high risk for suicide are seen the same day by a mental health clinician.  Students who have moderate risk for suicide, or who have high depression or anxiety, are seen within 3 days.
Janet Lindow, PhD helped found RBHI alongside Julie Anderson. Heather Zaluski, MD also joins the show to talk about her experience
For schools interested in screening, please contact Kayleigh Brown at kbrown@rbhi.org.