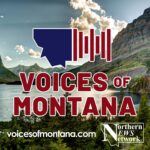 Mountain Shadow Association (MSA) is a community-based, Native-American non-profit focused on repairing and restoring relationships between children and their parents, citizens and their community, families and their culture, individuals and their environment.
Megkian Doyle is the Executive Director of Mountain Shadow Association, a Native American 501c3 whose mission is to support families in their journey toward healing until every Apsaalooke child grows up in a home of abundant peace and well-being. Many of you know Megkian as a former Lodge Grass High School teacher, Montana State University professor, or in her current role as Director of the Regional Community Action Team at One Health. Dr. Doyle previously served as the Director of the Raising Places initiative, a 9-month human-centered design project that brought community members from Lodge Grass together to focus on family-centered strategies for key community challenges.
Misti Toineeeta provides Certified Behavioral Health Peer Support for Big Horn County, engaging peers impacted by substance use disorder with the goal of connecting community members to supports, resources, and services to help them move toward or achieve recovery. Because of her lived experience with Substance Use Disorder, residential treatment, and recovery and her close connection to the local community, Ms. Toineeta helps bridge the gap between community and professional support and transition services.
To learn more or get involved, please visit www.mountainshadowassociation.org.